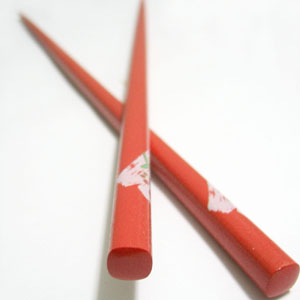 Hair chopsticks can be a very stylish hair accessory but also a very practical styling tool at the same time. Whether you just want a casual style or an up-do for a theme party, hair chopsticks can help you achieve the style you want.
Hair styles using hair chopsticks
You can use them as styling tools for any hair bun. Gather your hair in a ponytail that you twist to form a bun. Instead of using bobby pins to secure the bun, use two chopsticks.  Insert one chopstick diagonally through the bun and the hair beneath it and follow with a second chopsticks placed in the opposite direction – so as to form an "X."
You can also use hair chopsticks to create a more relaxed version of the French twist. Twist your hair the same way you would for a regular French twist, but instead of using bobby pins to secure it, you can use two chopsticks and insert them through the twist vertically – make sure that the end point is placed on top so as to hit your neck or back of the head. This should create a looser and relaxed French twist, unlike the traditional polished one.
Make your own hair chopsticks:
You can buy regular chopsticks and decorate them as creatively as you wish in order to make customized chopsticks for your hair. The easiest is to paint them with nail polish – it adheres to wood and plastic very well and has a shiny finish. You can create various designs and decorate them by gluing on small beads, sequins or anything that make them stand out as stylish hair accessories. Another great way to decorate hair chopsticks is to use craft wire and beads. Cut about 15 inches of wire and curl the middle of the wire onto the stick. Put beads on the remaining ends and slowly wrap the wire around the chopstick. This will give your hair chopsticks a polished jewelry-like look.