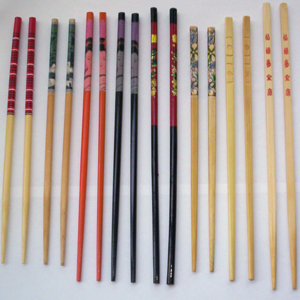 Chopsticks for Eating
Chopsticks are made of different materials and have different designs based on the country they are used in. Chinese chopsticks are generally made of bamboo and are longer, rectangular and have a blunt end. Japanese chopsticks are a bit shorter than Chinese ones, are rounded and have a thin tip. Korean chopsticks are made of metal – stainless steel – and generally have engraved ornaments.
Customized chopsticks can make great gifts for fans of Asian cuisine. Notably, silver or golden chopsticks can make great wedding gifts. Other luxury chopsticks could be made of other precious materials like ivory, jade, onyx and can also be embellished with stones, engravings etc.
You can learn more about how to use chopsticks and a few helpful etiquette tips on our "Eat with Chopsticks" page.
Chopsticks for Cooking
Cooking chopsticks are a bit different than eating chopsticks. They are longer and are generally made of bamboo (or wood) or plastic as they are low in temperature conduction. You should avoid metal chopsticks for cook once they are hot.
Chopsticks for Hair
Also inspired by Asian cultures, hair chopsticks can be great and also very practical hair accessories. You can find these in beauty supply stores or you can make your own. They can become stylish accessories that can replace the old pencil or pen you use at the office.
Chopsticks on Twitter
Learn more about different types of chopsticks by following "Chopsticks" on Twitter. You will receive updates from Chopsticks.com, Inc. about their latest products.